Hello, Topians! We're planning multiple releases this week. First up:
Redesigned world analytics
. Say goodbye to switching to the old analytics system (Hub), and hello to filtering the current analytics by date range.
📈 
Redesigned world analytics
Analytics have moved to your new Account Dashboard:
topia.io/t/dashboard/analytics
, but with some new bells and whistles. For starters, you'll no longer have to go to Hub to view analytics. Secondly, you can filter by date range to see analytics
more
than 30 days in the past and across any date range you specify (first week of last month, 2 months ago, etc.). Lastly, you can quick-switch between different worlds' analytics by using the breadcrumb dropdown.
This is the second of multiple Account Dasboard updates that we'll be releasing in the next few weeks. Stay tuned for more analytics to be added.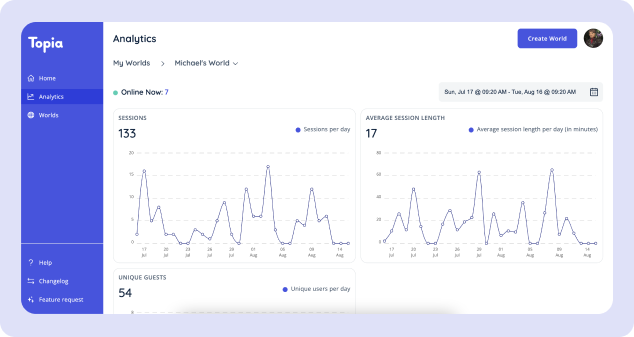 If you have feedback on how we can improve Topia, submit a new idea, vote, or comment on other ideas in our
Feature Requests Board
.